Dear Brett Favre -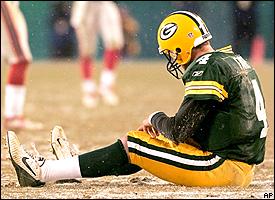 Wow. It is SNOWING in Green Bay! (emphasis added for strength of snow, not surprise.) I haven't seen snow in real life for like a year and a half. But now, my TV screen is half white and half green.... bay packers, that is.

How is it going? It seems like it's not going too well, from where I'm sitting, though I'm not at the game so it's hard to know for sure. It must be fun, you can see you breath! Maybe you could make some snow angels, I'm sure that will cheer you up.

You know, you're very lucky, not a lot of players get the chance to build their legend by coming back from a 14 point deficit... in the snow, no less! The Ice Bowl? Man, that will be nothing compared to this game. The Fum-bowl, they'll call it. But, remember, you will only think it's a good name if your team wins the game. And then wins the NFC. Then, beats the Patriots in the "Big Game".




You want to know why the Patriots were so flagrantly cheating? Look no further than the Tuck Rule, which was nothing short of NFL-sanctioned cheating. You think it's a coincidence a team named the Patriots were the NFL Champs 3 out of the 4 years after 9/11?

Wow! Brett, what a great move to lobby for the challenge on that ball placement! Never mind that the ref who spotted the ball could actually see where it was when the receiver's knee went down... if it's on TV, it must be true!

You know what this game will need to make it legendary? Get a snowplow involved, just so the Patriots have one less thing to claim as their own.



No video of the aforementioned snowplow game. I guess since there have already been 28 points scored in this game, there's no reason to compare it to a scoreless game played 25 years ago. Thank you, ESPN, for making sure the Patriots are always in Tne Captain's consciousness.

Well, you and your team have managed to get the score back to 0-0, so I guess only the last 3 quarters of this game will count... Don't screw up!

GREAT GOOGLY MOOGLY!!! SEATTLE KNOWS HOW TO FUMBLE TOO!!!

Fum-bowl, copyright 2008. ESPN, send royalty checks to The Captain, General Delivery Los Angeles CA.